Welcome to Bright Future Business Solutions
For website design and branded promotional items, choose the best!
Were your local experts in beautiful promotional equipment that helps you showcase and highlight your brand, and love helping people create stunning, responsive websites that let them boost their business and take advantage of the internet. We can even supply you with branded clothing and workwear, with free logo printing and embroidery. Its all just part of the service with Bright Future Business Solutions
Showcase your brand on the backs of your staff with branded workwear. T-shirts, hoodies, rain jackets and fleeces u2013 we do it all, helping you and your colleagues stay warm while looking cool. These clothes are built to last, and our embroidery and printing techniques are designed to ensure that your workwear displays your brand and messaging clearly and cleanly for years into the future.
Theres a huge range of other branded promotional items in from us, too! Just some of the branded promo equipment you can buy from us includes:
Give these to clients, prospects, people at trade shows or even passers-by on the street and get your name out there!
Although leaflets and business cards are still a vital weapon for marketers, your website is of utmost importance, too. You want to work with a company that knows how to promote brands and can create incredible and attractive graphics, so you can show your customers how professional and trustworthy you are. We can design, host and launch a website that youll be proud of with our team of website design experts, and will offer ongoing support as you grow your business online and get the most out of what the internet has to offer.
Take a look at our products and services and what we can offer you, and contact click on one of these below images to get a price
Leaflets and business cards are essential tools for everyone that wants to promote themselves. Showcase your products and services, pass on your contact details, and drum up some more business with ease, just create the perfect leaflets or business cards with our expert team, and then leave them in shops, libraries and hotels in, distribute them to targeted addresses, or hand them out at trade shows and networking events.
With embossed business cards and full leaflet design services, you dont have to worry about a thing when youre with Bright Future Business Solutions. Well help you represent your business properly!
MAKE AN ORDER
Making an order is simple! Just find the services you want on our website, and then use our handy online ordering system to book and pay for your promotional items, clothing, or website. If you need to send us anything - such as your logo, or any wording or imagery you want on your order u2013 then just email info@brightfbs.co.uk.
Were always ready to answer any questions or deal with any concerns you might have! Visit our contact us page to see some other fast ways to get in touch with us.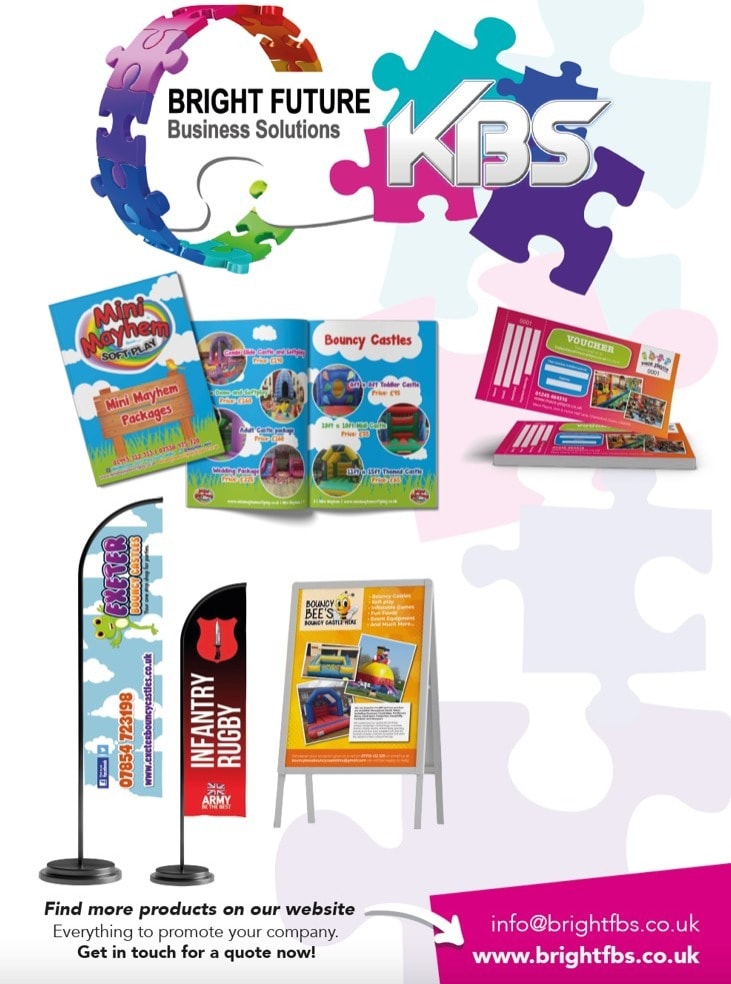 Bright Future Printed Goods Southampton